A few photos can be seen here.
A group of the Russians were heading off to the Lichtenstein Castle above Honau on Saturday, so myself and a couple others decided to join up for the trip. The castle sits atop a hill by the small town of Honau, which was just a 20min bus ride from Reutlingen. We decided to sleep late and take the bus at 12:30.
This had all been planned several days before, and it wasn't till Friday that we found out there might be a bit of snow. It wasn't till Saturday that we saw a good few inches of snow on the ground and a steady, light snow fall which continued throughout the day. The buses were still running so we decided to go. It's the first time I've been in proper snow since I was about 9 and quite a few of the other international students had never experienced snow.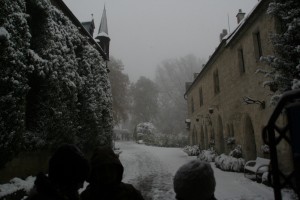 We got to Honau and had to hike about 2km up the hill to get to the castle. It was a lovely walk through a forest, with snow everywhere. We got to the top and did a short tour through the castle. The castle's quite small, especially compared to previous ones we've seen. Also the lovely views which are normally present were completely clouded over. This along with snow falling the whole time meant we didn't spend much time there and headed straight for the restaurant next door.
A lovely meal at the restaurant alongside a wood fire and we had to make the descent back to Honau. We took a slightly shorter route, through an extra few inches of snow getting down pretty quickly with half an hour to spare waiting for the bus.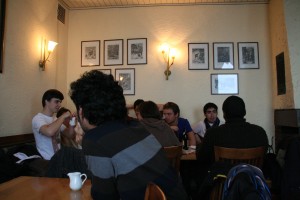 I took considerably less photos on this trip than on any previous trip, mainly due to the snow. There was very little cover to stand under and take photos on the trip. The snow was never ending and seems to get everywhere. Once again we weren't allowed to take photos within the castle.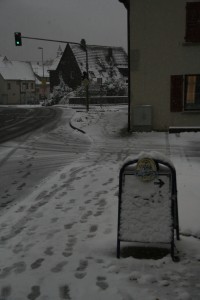 I only realised on the day, that the castle is spelt Lich-, as opposed to the country which is spelt Liech-. The same pronunciation did confuse some people when I mentioned where we were going for the day. The castle was apparently named after the rock it was built on which was very bright and easy to see. Lich being German for light, which was an old synonym for bright.
This week Thursday is a public holiday and quite a few people don't have class on Friday. There's a group hoping to get to Prague that I'd like to join, but at the moment transport seems to be a bit of an issue, but we will see what happens, else I'm sure we'll find something else to get up to.