I had some free time recently and heard you could go up to the observation deck of City Hall. While not the highest building downtown, the 27th floor observation deck gives a nice view over the city.
It's free to the public, you just need to show some ID at security and go through a metal detector. But they sign you in, give you a visitor sticker and some quick directions up to the top. You have to switch elevators near the top, and climb one flight of stairs.
At the top you are met by a dark room which looks like it is used for press conferences, but all around it is a balcony which overlooks LA. On each side is a small summary board, naming the buildings and other sites you can see. I giggled a bit when I noticed the optimistically marked Catalina Island. With LA smog, and a distance of 35km to the island, it is a special day when one can see it.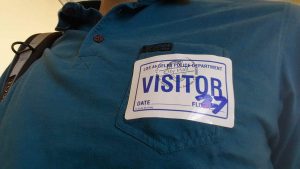 I took a bus from University Park to downtown, and then walked the streets to get to the city hall. Walking down a random street (Broadway), my attention was drawn to a girl taking a photo of a door mat. Reading the doormat I read "Bradbury Building". This name was familiar to me, but from the outside the building doesn't look like much, so I carried on to city hall while taking out my phone to investigate.
And yes, it was the Bradbury Building, a famous(y) building used in a number of films. I heard about it from a 99PI episode about the building. And while not being much to look at from the outside, inside has some interesting architecture. One is free to walk around the lower landing during office hours.
On my way back to catch the bus, I came across an unexpected funicular. I had actually read about it recently on Reddit, where it was the focus of a recent vandalism attempt, but hadn't taken note of where it was.
But there's still so much to see downtown, and I'll definitely research a bit more before my next trip.