"Julle's die mooiste mense!", that's the way my ride started off on Sunday as I completed my first Karoo to Coast bike ride. It's 100km of almost purely dirt roads that takes you from Uniondale up and down the mountains to end off in Knysna.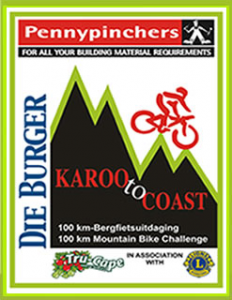 100km is a long way, and my constant self-reassurances that it must all be downhill (seeing as we started at 700m and ended at sea-level) did little to help when all the climbing occurred. Something that did help was the beautiful scenery, spectators with cheers of support, water points and a stunning 14km down hill. 14km. Of down hill. It was great!
Although the road wasn't closed to traffic we were very lucky, along the entire 100km, I probably only encountered 2 or 3 non-official cars. This makes life on the down hills much nicer. Speaking of down hills, and up hills for that matter, and puddles, this is my only complaint, however it is not at all unique to the K2C.
I'm not the fastest climber, and as such I make a point to keep well left and out of the way of the faster riders. I'm also slightly paranoid, and constantly check around em to see where people are. If I want to pass someone I check to see I won't get in someone's way and I make a dash. All I want is for other people to do the same on the downhills. Downhills are where I can make up all the time I lost on the uphill. I'm comfortable going fairly fast on the downhills. It's fun, but when you're coming down and getting held up the whole time it get's annoying, especially people who don't hold their lines through a corner. Obviously cutting corners is the easiest way to get down fast, and I do it often, but I make sure I won't be cutting someone else off.
My problem with puddles is more people's lack of desire to get wet and muddy in an inherently dirty past time. About 15km into the ride there was a big puddle of water in the middle of the road and everyone tries to go around, half the people climbed off their bikes at this stage. I rode straight through the middle. Why? Because no one else was there, and it's fun to make a spray of muddy water :)
Most of these problems are just an issue of too many people in the same spot, and is, I guess fully understandable, and I accept them as part of cycling, but it would be nice if they weren't there.
In any case I cycled the full route with my dad and we finished with equal times of 05:36:08, nothing amazing, but I was quite happy with it. He did somehow manage to grab the position in front of me, us finishing 816 and 817 of 1987 finishers. The cutoff being 8hours. We also stopped for a nice swim in a river along the way to cool off on what was a rather warm day.
Although the race started in Uniondale, we spent the night at a nice B&B in de Rust, I believe the place was called Riverside or something similar. We had lovely pizza the previous night at the backpackers in de Rust whose restaurant is apparently only open on Fridays.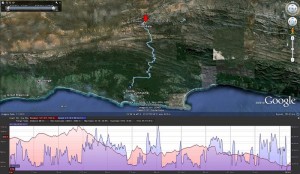 Included in this post are the logs from my GPS which I carried along, and which managed to die 15km from the end. Max speed clocked out at 66km/h.
Overall had a great ride on a spectacular route and look forward to doing it again next year.