I've been spoilt in the last few years with the vehicles I've been able to drive on a daily basis. And I fear it has spoiled me (1, 2, 3, 4). When we moved to the US, I didn't have work lined up and had to wait several months for a work permit. During that time we were living off a grad-student salary and savings. Very quickly we realised the need (or extremely strong desire) for a vehicle to get aroudn and out of LA. Although living in close proximity to public transport, it lacked in many areas. So we were shopping on a budget. Definitely pre-owned, but we wanted something we could at least take into the wilderness. 4WD wasn't off the cards, but not a necessity.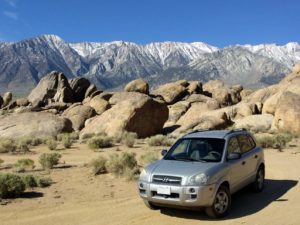 As such our vehicle search landed us with a lowish mileage (72,000 miles) 2008 Hyundai Tucson. It was well-priced, likely as a result of its manual transmission and "small" 2.0 petrol engine. Besides a couple scratches on the bumpers, it was devoid of major dents or indication of having been in an accident. And so it became ours. It had two open recalls, which the Hyundai dealership quickly sorted for us free of charge and has otherwise been problem free.
Since getting it we've replaced the tires and brake pads, as well as the front rotors. An oil change and other minor maintenance have been all its required. Almost 10,000 miles in, and it's still going strong. It doesn't use oil, has been surprisingly capable off-road, and the platinum paint job hides the dirt well.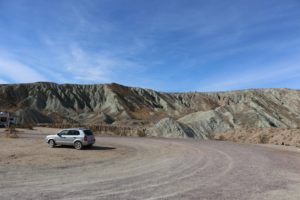 But as I mentioned I've been spoilt, and this car is underwhelming to drive. My 1996 Audi competes with this Hyundai on features. But it's a car. It gets us from A to B, and doesn't complain. The 2.0l engine is surprisingly sprightly, but lacks torque when climbing long hills at highway speeds; of which the Americans are fond. Was it a bad decision? definitely not. As we've gotten to know California better, my only regret is not having looked for a 4WD version. The ground clearance has let us do a good amount of exploring, and while the boot (trunk) isn't large, it's ample for two people, and camping for four has been achieved. Even in a bit of snow.
If you're looking for an amazing car. This isn't it. It has power steering, it has electric windows, and it has a radio (with front loader). It has AC, that battles on the hottest of LA days, but is otherwise capable. It has airbags and we've added a towbar. It is a car; it is ours; and we like it.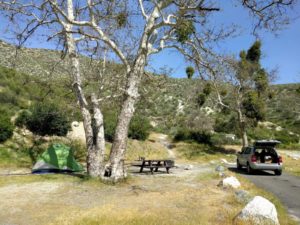 There isn't really anythign else to say about it. It has done all that we've asked of it, but bar the fact that it is our Tucson, it is nothing special.
Would I suggest you buy one? Sure. If it meets your needs, and you can get one for a good price. Hyundais of this generation have a good reputation for reliability. And I expect this car to convey us many more 10s of thousands of kilometres before we eventually give it up.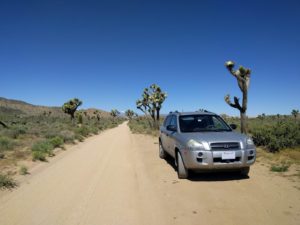 Although we could afford a new car, why? We either cycle or take public transport to work. The car sits at home during the week, besides the odd grocery run. Otherwise it sits in waiting; waiting for our next adventure. It is a car, and it is ours.