So after saying goodbye to my C350 earlier this year after a short three months, I switched back to my Audi, but last month got my hands on a new A200. Which I'll most likely be driving for the next year. And it's nice.
The model I have is pretty much stock. It's got the 7 Speed dual clutch auto (7G-DCT) (although I would have preferred a manual), and cruise-control, but otherwise as stock as it gets. It does not have a spare tyre, not even a space-saver. Which isn't great for our roads, but I'm hoping to not have to test out the run-flats in any case. They didn't have stock of tow-bars when I ordered it, but a Westfalia fold-away-able ball was installed shortly thereafter.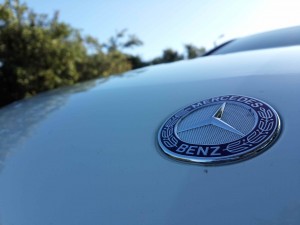 The car goes well. Front-wheel drive, with a 1.6 litre turbo-charged engine producing somewhere around 115kw. A good 20 more than my Audi, although it does weigh an extra 200kg, putting it at close to 1.5tons. It still manages a 0-100 speed of 8.6s though and has plenty of umph for overtaking.
The car itself is comfortable. At 6'2″ I fit in quite nicely, with enough space for an equally sized person to sit behind me (although preferably only two people in the back). Manual seat adjustments are adequate along with the steering adjustment, pretty standard on current day cars. I'll be doing a 1,000km trip at the end of the year so I'll see what it's like for extended periods then, up till now I've done a 200km trip without hassle.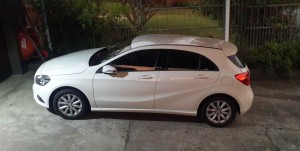 Fuel economy is not as good as I expected. Obviously how you drive does affect this. The car only has a 50l tank, which is a bit frustrating for me coming from the 65l in my Audi. Around town I'm usually only getting around 10l/100km, maybe slightly less. If I put some effort into it I can bring that down to 9. This is not necessarily only my driving style, but the type of driving I have to do.
On the open road I managed 7.9l/100km, but I'm quite sure I can improve on that, and will be testing it out again this coming weekend (EDIT: Got it down to 6.8l/100km). This is better than what my Audi got :)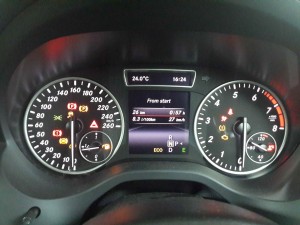 In typical Mercedes style, the ride itself is comfortable and rattles and wind-noise are minimal. At highway cruising speeds you don't notice anything and the car feels like it can handle much higher speeds with ease. With a top speed of 220km/h, it'd be nice to get the car on a track some time.
The steering wheel, radio and much of the controls are straight out of the previous C-Class (204). So I felt right at home. Centre console and armrest are slightly different, with the gear lever now located off the steering column on the right, following the latest Merc trend. This gives a bit extra space for compartments. There are also small compartments in front of each of the front seats, as well as a nice sunglasses pocket by the review mirror which my sunglasses don't fit in.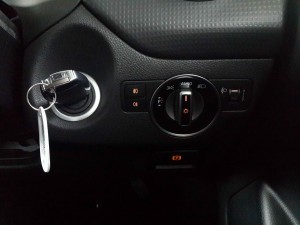 A moderate boot can be expanded immensely by the 60-40 split rear seats, large enough for a MTB bike without its wheels, or large TV. Ski's may still provide a challenge, alas not one I will face. Climate control is a R7 500 extra, something I didn't think I'd miss until I started driving this car. It handles well enough, sticks nicely in the corners, although body roll is noticeable at speed. It has a sensor for if it thinks you are driving too close behind someone. A red light comes on on the dash. And it beeps at you if it thinks you are going to crash into them. It has beeped at me many times, not always because of my 'bad' driving style at the time.
It's a nice car. I'm really enjoying it. Visibility isn't great, but I suspect the car will handle a roll quite well with the massive C pillars. Fuel consumption isn't as good as I was expecting. I would have to spend more time in the Audi and BMW competitors before I could make a decision, But the 'new' A-class is definitely a hit and well up to standard.