It was only our first week in the US, but we already had an opportunity to travel. A field trip to Kings Canyon and Sequoia National Parks was to be our first adventure in our new home. Located about 350km (or 5 hours drive including traffic) North of LA, and about 100km inland, these two national parks are just some of the many national parks/forests/conservancies that litter the US and that we are keen to explore.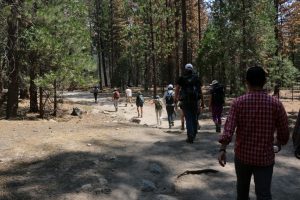 It was a great opportunity for us to get out and meet new people. We camped the Friday and Saturday night at Crystal Springs campsite. This included the new experience of bear protection. Back home we're generally fenced in from the lions and leopards, but a low enough risk means bears are free to roam through campsites in the States, smelling out food, toothpaste or other items of interest. We were fortunate (so I'm told) enough to not  be bothered by the wildlife. None the less we did our part and made use of on site steel anti-bear cupboards to store our fragrant belongings.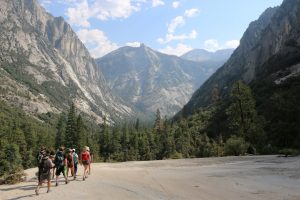 Saturday, after a leisurely wakeup, we went to the end of the Kings Canyon road and hiked the 4 miles up to Mist Falls. It's a fairly non-strenuous hike through the forests and along the river. Several opportunities to swim were not ignored, and the fresh water was a welcome relief to the fairly warm Californian weather.
The scenery is picturesque; ambling through the trees, wedged between towering mountains, one is never short of a stunning view or photo opportunity.
We returned back to camp for the night, and on Sunday we drove out through the Sequoia National Park, stopping off at General Grant (pictured above and below) for a few pictures with the enormous trees. Apparently the park is quite popular on weekends, as the General Grant section was packed, requiring us to take a shuttle from a nearby parking area. Also the trees there are huge!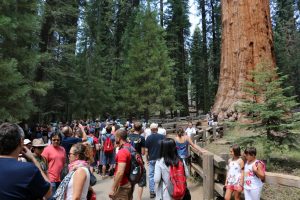 The two types of 'big trees' are the Sequoias (tall and really wide) and the Redwoods (Even taller, slightly thinner). They're both part of the same family, but the Redwoods are found closer to San Francisco. See useful insert from the NPS map: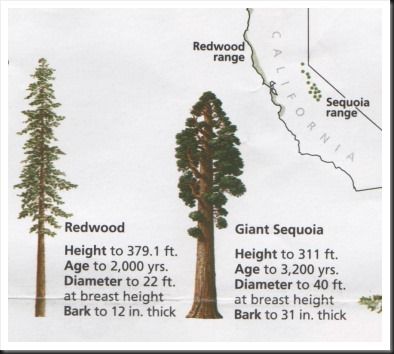 A long drive back to LA got us home before dark.