For the past few years, ever since I got a laptop, I've used a laptop stand with a built in keyboard, and although a bit limiting as far as manoeuvrability is concerned, it's worked quite nicely. It allows my screen to be lifted up, and puts it a bit further away from me, while also giving me a full size keyboard to work on.
It's not an amazing keyboard but it's done me quite well, until earlier this year when I upended a cup of coffee onto it. To it's credit, after I stripped it, drained it, and cleaned off as much of the sticky stuff as I could, it continued to work. But the stickiness is still there, impeding my typing. And so I was looking around for keyboards, but couldn't find one I liked.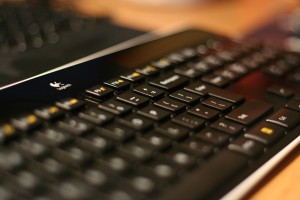 I knew which keyboard I wanted, it was this one (Logitech K750). The solar powered one :) but it was R1,000. And I wasn't going to pay that much for a keyboard. Ideally I was looking for a wireless 'island' key layout, much like my laptop's keyboard. But I couldn't find one in I wanted to buy..
And so I resigned myself to sticking to my sticky keyboard. Until Takealot had a daily deal and I picked the same keyboard up for halfprice, much to my delight. In typical Takealot fashion, they completely over-packed the box, but the keyboard itself comes in a slim box, with only the essentials. The keyboard itself is very thin, but with a surprising weight to it. It has some flex to it, and two spindly legs to raise it, but it all seems sturdy enough.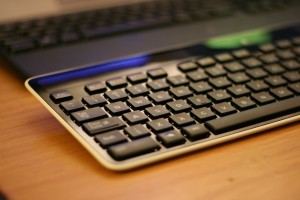 The keyboard has a nice gloss finish (it even comes with a cloth), with the two 'large' solar panels taking up space along the top of the keyboard. The keyboard makes use of Logitech's unifying remote, and even comes with a small extension for plugging in the back of a desktop PC.
The letters on the keys are in the middle or slightly below the centre of the button, which makes it look odd, but obviously has minimal impact. One thing I am missing straight off the bat, is the lack of wrist rest. My laptop obviously has one, and my laptop stand also had a rather sizeable one. But I'm sure the lack of this will be forgotten in time.
The keyboard has an on/off switch, assumedly to spare a bit of battery and a 'light testing' button, which when pressed illuminates a green or red LED depending on how much light the panels are receiving at the time. The keyboard is also designed to never have its battery replaced. Only time will tell, but that's obviously why we have the solar panels.
Overall a very nice keyboard that I'm happy with. The layout is ever so slightly larger than my old keyboard, so my fingers feel slightly stretched, but I don't know if that's actually true or if it's just the lack of wrist rest that makes me think that. Now I just need to build a new laptop stand for myself.