So this weekend I had the opportunity to join a couple guys from Reutlingen to a skiing trip to the Alps. It was originally supposed to be in Ischgl, but a small admin error brought us to Lech in the Arlberg.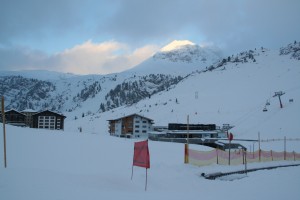 We didn't have a particularly nice drive there or back. The roads were fairly busy and snow was falling almost throughout. Fortunately our Finnish driver handled our Mercedes Vito and the roads well getting us there and back again safely. Although a bit of a push was required up the final hill in Lech to get to our accommodation :)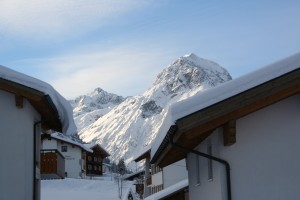 We stayed at the Pension Juliana, a large building with several spacious apartments, we had two 4 bed apartments. Each has a lounge and kitchen area with separate bathroom and two bedrooms. The building also houses a sauna which enjoyed after our first day of skiing. It's located 50m from a bus stop which makes getting into town and onto the slopes fairly painless.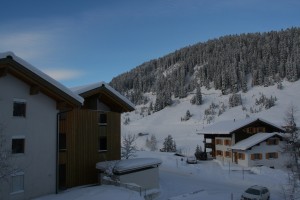 I didn't really know what to expect. I'd never skied on snow before, and had only seen pictures and movies before, but I really had a great time. I was firstly surprised at how many different routes one could take. Lech lies in a valley along with a few other small towns, but on both sides of the valley stretching the length of the towns there are routes everywhere. Ski-lifts of varying design and size to get you to the top, and your choice of blue/red/black routes to get down.

Three of our group were snowboarders and the other three skiiers. I had done neither but decided to choose the alleged easier of the two, skiing. I also opted out of taking any lessons and decided to jump right in to some skiing, the other three skiiers in the group were a great help giving me some tips to get going. Going however wasn't my problem, slowing down being my biggest problem, especially when losing my balance a bit. A couple falls occurred but my confidence gradually grew.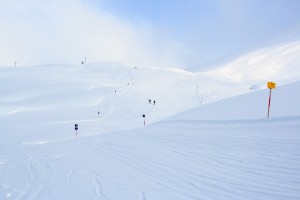 We hired gear from a rental company in Lech and spent most of Saturday and Sunday going up and down the various slopes around Lech and neighbouring Zeurs. It was a rather expensive trip, but well worth it. I'd love to give snowboarding a go some time, maybe I can find a slope back home some where.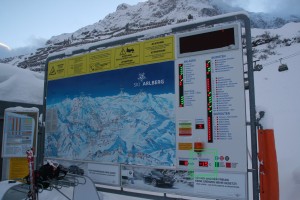 I took my camera with me on the slopes, but had one or two issues. Apparently my Canon 350D and my Sigma 18-200 don't like the cold weather too much. Under normal temperatures everything works fine. But with cold temperatures, the moment that I zoom in a bit I get an Error 99 and no photo. At 18mm however I can still take photos, so I got one or two at least. I experienced the same thing the previous weekend when I climbed the Achalm in Reutlingen.
A few more photos can be seen here.