In an attempt to put off working for another year, I managed to wangle myself a master's project for 2012. That's not quite true. Masters is something I've wanted to do for quite a while. I understand why the university and my degree is structured like it is, but I didn't enjoy the whole journey. My fourth year was definitely the best year, for many reasons, but from a course perspective specifically. It seemed they'd finally decided we'd learnt enough to have some fun.
My final year project (skripsie) was something that I put more time into than any previous venture. But that is its nature. And I loved it. An opportunity to work on a project by oneself. To be (virtually) wholly responsible. And to be able to choose what you wanted to spend the year working on. And at the end of that year, the obvious choice to get more of that feeling was to work towards my master's degree.
There were a couple hiccups along the way. Firstly I had bursary obligations to Mercedes-Benz in East London. This is something I'm still looking forward to, but at the time felt that once I'd started working, a master's would be a long way off. In consultation with them I managed to get a year postponement on my contract. With this in mind I set about looking for a project. My plan was to work full-time in 2012, and finish off part-time while working in EL in 2013.
My first stop was with a lecturer at Stellenbosch's Mechatronics faculty. The projects were there, and the interest was there, but the lecturer felt that there was no way I'd finish my project. Stellenbosch University's Masters in Mechanical or Mechatronic Engineering begins with a semester of full-time classes, meaning that there's no time to work on one's project. I wasn't too concerned as I wasn't that keen for any more coursework, and I still had the E&E department to go to.
I applied for a position with the MIH Media Lab and went for an interview there. Although the interview went well, they had concerns over my obligations to Mercedes and my 1 year window. Later I had interesting opportunities from the ESL lab, and although they were willing to have me for the year, the research areas weren't quite in the direction I wanted.
And so it was December. I had accommodation planned in Stellenbosch, with every intention of returning in 2012, but this was not to be. Still very keen to do my masters I looked around at other universities. After a little contact with a lecturer at NMMU I decided that I might be moving to PE for the year. I applied late December, but it took a while for my application process to get through. End of January I still wasn't sure what was happening, I hadn't had the opportunity to properly discuss projects with anyone, so at the beginning of February I flew up for two days to look around the university, chat with a lecturer and possibly find accommodation.
One week later and I was moved into a garden flat in Walmer, with a project all lined up. It was, and still is, a bit weird to be so far from home. Not only family but friends too, especially seeing as I had still intended to be in Stellenbosch that year. But I'm slowly getting settled in. I had the opportunity to go home last weekend to ride the Argus Cycle Tour and managed to complete my 10th Argus in 3hr38min cycle with my Dad, my best time so far. I've joined a local squash club and intend to play the winter men's league.
I've also found myself with a lot more time on hand. While still making friends and having my girlfriend several hundred miles away :/ it has given me a bit more time, even if I don't always spend it as constructively as I could. I'm reading more, and although I tried to join follow a Udacity course on Artificial Intelligence, I've found that after a day in front of the computer researching and typing, I'm not all that pumped up to do too much hard thinking in the evenings. Although I do feel it's an amazing idea, and look forward to see where it goes in the future.
I managed to do a bit of writing before I started at the university here, managing to win myself an Ipad 2 in the NSTF-BHP Billiton Science Writing Competition. The topic of the essay was to encourage high school learners to take up engineering after school. If you're interested you can read the article here. And thus I have my first Apple product forced upon me. I've only had the device a few days but I'm getting to like it. I've always had a thing against Apple products and the way they force certain things on you. The syncing requirement has always particularly bugged me, but we'll see how I get on. Bought myself a horribly expensive stylus today and have a cover on order. I'm still slightly shy about using it, but I'm sure I'll get used to that.
So that's me. In Port Elizabeth for a year. My project at NMMU is to design a cost-effective Autonomous Guided Cart for a local automobile manufacturer. I think it will be a fun project, and I've spent the last month solidly researching it. Handed in a draft proposal yesterday which my supervisor appeared to approve of. It is something very different coming to a new university as a masters student. At Stellenbosch I'd had more than a degree, I'd had four years to learn how to get things done and where. I knew how the university worked and how to sort out admin. Here at NMMU everything is different and the separate campuses just aid in the confusion. They also don't seem to be used to doing too much by e-mail, which frustrates me, because I feel that pretty much anything should be able to be accomplished by a web-interface or a well worded e-mail to the right people. But I can't even find an email address for the IT department.
That said, I'm not going to complain about the uncapped internet. My supervisor reckons I can have my project finished by the end of the year, so that's what I've scheduled for. It should be possible if I work hard. I've got a holiday scheduled for a week at the end of April which I'm looking forward to, but until then it's time to get some design work done.
This post has ended up considerably longer than expected, and thoroughly devoid of suitable pictures, so here's a picture of a doggy.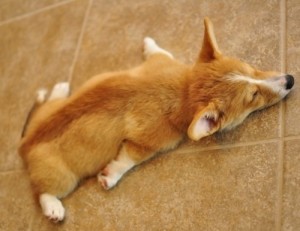 Also, kudos to BBC for airing the latest Top Gear locally less than two weeks after it aired in the UK. It's been a fairly solid season, unfortunately no epic episode, but enjoyed it none the less. Similar kudos to Mnet for airing the upcoming Game of Thrones season 2, two weeks after airing in the States. Having finished reading the fifth book in the series, I'm really looking forward to it.