I don't necessarily feel that I am the best person to make this comparison. While I feel I know the rules to cricket fairly well, I attended sadly few matches growing up in SA. Resigning most of my spectating to the TV-room couch. At the same time I've watched a grand total of one baseball match. Nevertheless I feel it necessary to comment.
It was a fun outing. We watched the LA Dodgers play against the NY Mets at Dodger Stadium. We were fortunate enough to go with friends who were able to answer all our questions, and when they were stumbling, a nearby spectator who overheard our conversation was happy to ensure we did not leave un- or misinformed.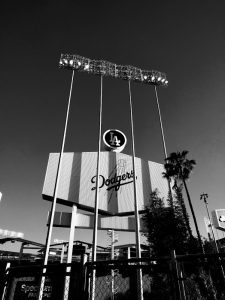 At a base level, the sports are the same. You have bowlers/pitchers who try 'throw' the ball towards the batter/batsman, who after successfully hitting the ball have to run somewhere. Now there are obviously many differences too. In cricket you only get one 'strike', and technically the bowler can have as many 'balls' as he wants (no-balls & wides) as opposed to just four, although he's forfeiting runs each time.
Bowls and pitches all come in different varieties with differing amounts of speed and curve on them. And the man with the bat who's not receiving is always trying to gain a couple feet (or a lot) before the ball has been thrown. A home run is much like a 6, and even when the ball bounces, they can all still gain two bases in what is known as an automatic double, much like a 4. One complaint I will make is that baseball players apparently need help being told whether they should run or not, as evidence by the first and third base coaches who occasionally wander onto the field.
Like many other things in America, an MLB match isn't just about the baseball, but the end of every innings instead brings entertainment for the spectators in one form or another. This could be spectators trying to win free tickets, kiss-cams, veteran appreciation or a rendition of 'Take me out to the ball game'. It's understandable that cricket has had to lean towards the 20-over variety, considering the entertainment crammed into a 3 hour MLB match.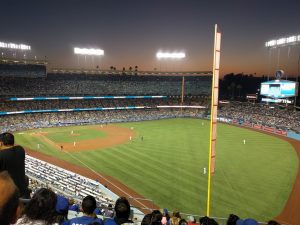 And I don't think it's fair to compare a one-day or test cricket match to baseball. They certainly have different appeals. At around 3 hours, a 20-over cricket match is certainly a fair comparison, although I feel there's a lot more action involved in such a match than a baseball game. Baseball appeared to have a lot more waiting, especially between batsmen coming out and innings changeover. Something that happens 17 times in a match. Compared to the single innings changeover in cricket, and fairly quick end-of-over switch.
At the end of the day I really enjoyed the game. It was fun learning all the rules and seeing the whole spectacle. My only gripe is the difficulty in distinguishing whether a ball or strike was called immediately after it happened. I feel that everyone on the field obviously knows what's happening and has reacted, but it takes me a while to catch up. I'm aware the umpire does signal this, maybe our seats were too far away, but in cricket it's usually immediately evident as to what happened.

If I had to choose between a 20-over cricket match and a baseball game, I'd still go for the cricket match. But in the absence of such events, baseball does a great job of filling the gap. Next up, football vs rugby?
If you're looking for an alternatively biased article, you can read Zack Case's American view on how boring cricket is over here.