Last weekend a friend and I spent some time with my family in Kokstad. While there we decided to take a trip up the Sani Pass, on mountain bikes. Sunday we headed out through Underberg and Himeville and on to the pass. The road to the South African border post was mostly good with a couple rough patches, and a bit of ground clearance would come in handy. That being said we saw a ford fiesta with 4 people that somehow managed to scrape its way to the border post.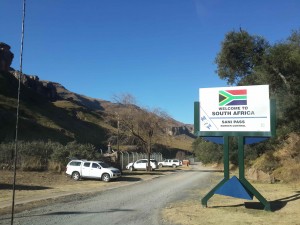 Passports are required, but it's a quick stamp at the SA offices before you climb on your bike. The pass officially starts several kilometres earlier, but we decided to ride post to post. It was a long climb up. The route is only 8km, but you climb vertically from 1965m up to 2873m. A tough job for my sea-level accustomed lungs. It took us about 2hr15min to do the trip up, of which we were stationary for half an hour.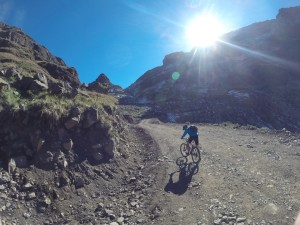 Once up top we had a quick meal at the self-proclaimed 'highest pub in Africa', a glass of gluehwein to warm us up and a cup of coffee to sober us up for the trip down. It had snowed there several days prior, but most of the snow had already melted. Coming up the pass some sections which don't get the sun were still iced over though. Only 4×4 vehicles are permitted to go up the pass, that doesn't stop everyone though, and we saw some sliding fun by a RWD Ford Ranger on one particularly icy section.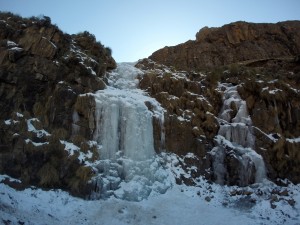 The trip down was a lot of fun. Definitely worth the tough climb, and I'd love to do it again. The first sections are particularly slow due to the ice. We also had a fair amount of traffic both ways, but it's usually relatively easy to get past the vehicles. Especially on the way down they are driving much slower than a bike.
While there are a lot of rumours of tarring the route, till  now no work has taken place, nor any visible preparation. It's gravel the whole way till you cross the Lesotho border, at which point you ride onto nice smooth asphalt.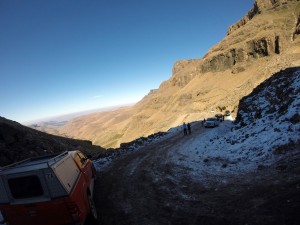 My full trip down can be seen below: